---
Atlantic Poly Blog
- Grab the Atlantic Poly RSS Feed!
02 May 2011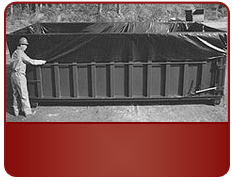 Dumpster liners are a popular alternative to poly sheeting. They are also environmentally friendly; keeping hazardous materials contained therefore protecting workers, employees, and all others who may be in the immediate area. Made from polyethylene they provide a cleaner, safer, easier way to dump debris, and other airborne contaminants.

Atlantic Poly is a supplier of a variety of polyethylene dumpster and drum liners that help make waste disposal easier and safer. Dumpster liners reduce potential leakage, lower wash-out costs and increase container longevity. We carry products in standard stock sizes for quick delivery and can also customize our liners to meet your specific needs.

BinSkins are heavy-duty polyethylene liners, providing maximum protection for your roll-off containers. Liners from Atlantic Poly are rugged and tear-resistant and aid in the transport of solids and sludge liquids.

We have also developed a new line of Roll Off liners called "TRUE LINERS" which are guaranteed full gauge, full spec liners that meet all EPA and Government requirements. Current liners on the market are being sold at industry gauge tolerance +/- 10%. This has created numerous problems on various job sites where the EPA has actually refused dump trailers to be loaded because of under-gauge bags. Our "TRUE LINERS" are guaranteed and certified to meet full gauge requirements.
Comments (0)
|
Trackbacks (0)
|
Permalink
|
|
---