---
Atlantic Poly Blog
Joseph Coupal - Friday, January 21, 2011
The world-wide demand for plastics continues to skyrocket. The early plastics were non-biodegradable and now rest in landfills for thousands of years to come. Scientists were quick to recognize this environmental threat and matured plastics manufacturing industry into the multi-faceted biodegradable industry that it is today. Today, two main biodegradable plastics prevail the market: oxo-biodegradable and hydro-biodegradable.

The two products have similarities. In both cases degradation begins with a chemical process (oxidation and hydrolysis respectively), followed by a biological process and both types emit CO2 as they degrade. Both types are compostable.

Hydro-biodegradable is much more expensive than oxo-biodegradable to manufacture. Hydro-biodegradable also emits methane during the decomposition process. For these and other more technical reasons, only oxo-biodegradable can be economically recycled.

So, if you are environmentally conscious, look to be a consumer of oxo-biodegradable consumer plastics. Atlantic Poly specializes in producing custom oxo-biodegradable consumer plastics and we will be glad to help you and your company "go green" in a most economical fashion.
---
Joseph Coupal - Tuesday, January 18, 2011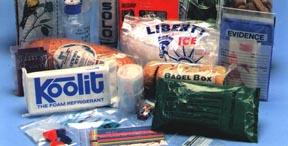 In the world of marketing, packaging of products plays a very important factor in promoting brand recognition. Printed poly bags are among the most popular material used, which allows custom printing of logo and branding for more effective branding strategy. So aside from providing a great packaging material for your products, seeing the printed poly bag will also attract the attention of other people that will hopefully generate interest and awareness. That's definitely an added value any serious entrepreneur wouldn't want to miss.
Of course the popularity of printed poly bags is not only limited to its marketing value. The primary reason why most businesses prefer to use it is because its known durability in providing optimum protection to its contents. The material is waterproof and allows a high degree of protection against dust, dirt and moisture from seeping in. This ensures that your products are maintained in its premium condition from you store to your customer's home.
There is also the fact that it presents a cheaper option for packaging as compared to other types of packaging material. Additionally, its ability to be sealed and re-sealed makes it a practical option for many, especially businessmen who would want their packaging material to be used to maximize its exposure and mileage.
Poly bags can be used to package just about anything. It is flexible enough to conform to any size and shape without compromising its quality. Of course, its ability to be printed on, gives a whole new appeal. Now you can use vibrant colors and designs, and use your brand design to personalize your packaging to effectively give off a more professional look. So if you are looking for cheaper packaging contact us today to find out more about printed poly bags and their many uses and benefits. Be sure to check out our other polyethylene products that we offer as we have a wide assortment of materials to promote and push your business forward.
---
Joseph Coupal - Sunday, January 16, 2011
Packaging has been the need of human kind from early time for storing, transporting, preserve foods, goods and products. With the dramatic innovation of technology, the interaction between people from different areas, different countries increase and demand of trading rises day by day, packaging in a most convenience way is necessary and vital. Plastic bags have been introduced to meet that demand as an excellent solution. But just how are plastic bags are produced?

The 1st process is blowing film or called extruding film. All the materials will be put into extruding machine to make big plastic film roll. In this steps, workers or technicians must control the bag rolls into smooth appearance.

The second step is printing process which is mainly used for shopping bags which many companies could customize the printing image with their logo, brand name, information about products.

And finally there is the cutting and sealing process. The plastic rolls are put into cutting workshop to make it into different shapes and different handles. There are a lot of cutting machines available served for different handles: T-shirt, die cut, soft loop, patch handle, rigid, flat merchandise, etc. For the special kinds such as drawstring plastic handle bags, rigid plastic handle bags, soft loop plastic handle bags, they are usually required some manual steps which can not be implemented by automatic machine. In manual workshop, workers have to sew the handles into the bags, putting the cardboard into gussets (customized to customer's requirement) and punching in the hole.

Feel free to contact us should you have any other questions about plastic bags or polyethylene products in general. Be sure to check out our other wide selection of plastic and poly products ranging from custom printed logo bags to ISO certified bags to shrink film. We have been servicing our customers for over 28 years. Every month, we ship millions of poly bags and other packaging products. We are responsible for packaging goods in the electronic, jewelry, textile, food, dinnerware, hardware, automotive, clothing, commercial goods, shipping materials, office supplies, recycling and many other industries.
---
---
1