---
Bubble Wrap's Critical Commercial Packing Contributions
08 Nov 2019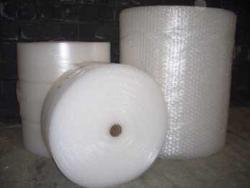 Behind every successful product packaging entity is a ready stock of poly bubble wrap. Bubble wrap provides the security and protection of packaged goods like no other packing material. It is one of the top choices for shipping materials worldwide. It is the latest mode of packing favored by everyone. With the correct use of bubble wrap on household and other items, it makes much more effective. Consumers will be happy receiving the items intact at the end of the move.
This light, durable and diverse packing material is made from various ranges of plastic. There is bubble wrap made from thicker plastic and are hard to pop. It is exceedingly good in keeping goods safe and secure while in transit. Freight transit often experience rough handling or unavoidable bumps in the road. Shippers make it sure to protect the goods with bubble wrap. The bubbles with sealed air make a durable and elastic cushion that serves a strong barrier against impact. The more layers it is wrapped and placed in a corrugated shipping box, the more it protects goods from severe impact.
Another productive effect of bubble wrap is its reusability. As long as most of the bubbles are intact, you and your clients can put the product right back into service. Reusing it will protect your most valuable goods in transit. This makes bubble wrap a much more sustainable packing compared to other types of packaging that are difficult to reuse. With that, you will expect a big cost reduction and expect big potential savings as well.
Polyethylene Bubble Wrap is among the lightest among the packaging materials. Since the content of the bubble wrap is mostly air, with just a few layers of super lightweight plastic it will not add on to more weight. That makes a maximum light packaging material that will provide you a lot of savings in shipping costs. The less packaging means more low costs when shipping by weight.
After all the packing and sealing is done, bubble wrap is just plain fun. Having peace of mind on the final packing, the goods for transit is in good hands and highly protected from all the forthcoming problems that will encounter during the shipment. At the same time, while taking it easy, you will just pop the air out in the bubble wrap and stress will fly away. Furthermore, customers love it too. For many people, it is an extra bonus that they will either reuse or pop to their heart's content.
For more tips on bubble wrap, contact Atlantic Poly.