---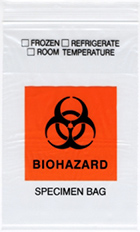 Plastic Medical Bags
Plastic Medical Waste and Specimen Bags - Atlantic Poly is a supplier of plastic medical bags used in a wide array of medical applications:
We can supply Bags with the tightest tolerances in the industry.
We can supply Bags with "leak-proof" seals
We carry a large inventory of nylon and anti-static material which can be converted into custom pouches
Inventory control, Just-In-Time Delivery…Not a Problem!! We can ship your product when you need it…GUARANTEED!!
Our reclosable (Zip lock) medical bags are made of virgin polyethylene and meet all USDA and FDA requirements. Just choose the quantity that you need, and we'll ship it out to you right away. Top quality recloseable medical bags with a high quality zip that protects your product.
All virgin polyethylene meets FDA and USDA requirements.
An outer pouch keeps paperwork separate and protected.
Our medical bags are useful in laboratories and in hospitals to securely transfer specimens and paperwork
Other uses include Surgical Instruments and devices; Orthopedic sizing trials; Imaging and Monitoring; Surgical Trays; Diagnostic Equipment; Dental equipment and devices; Pharmaceutical Manufacturing; and Animal Research and Care.