---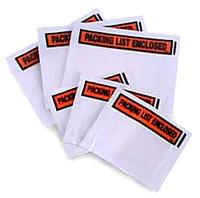 Packing List Envelopes
Polyethylene Packing List Envelopes protect invoices, shipping lists and other important documents. Clear pouches on the Poly Packing List Envelopes allow contents to be easily read. Full-face pouches keep contents confidential. Pressure-sensitive envelopes attach easily and securely to the mailing containers. Special printing and optional colors are available. Minimum order - 1,000 envelopes. As a Packing List Envelope Supplier we offer all sizes. Sizes shown are outside dimensions; deduct 1/2" (13mm) for inside dimensions. Also offering: Wholesale Polyethylene Envelopes and Wholesale Poly Envelopes.
Packing Lists Envelopes & Custom Mailing Envelopes
These pressure sensitive envelopes attach securely to your mailing containers. All pricing is per thousand. Dimensions are O.D.
SIZE

4.5" x 5.5"

4.5" x 5.5"

4.5" x 6.0"

4.5" x 6.0"

7.0" x 5.5"

7.0" x 5.5"

5.5" x 10.0"

5.5" x 10.0"

TYPE

SMALL PRINT

FULL FACE

SMALL PRINT

FULL FACE

SMALL PRINT

FULL FACE

SMALL PRINT

FULL FACE