---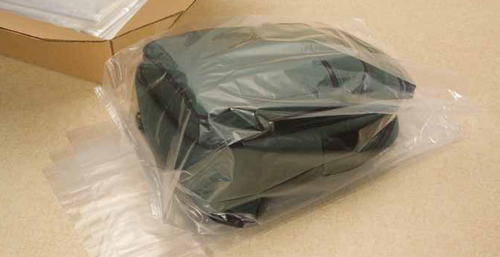 Gusseted Poly Bags
We are a Gusseted Poly Bag Supplier that offers three dimensional Gusseted Polyethylene Bags. These Gussetted Poly Bags provide a precision fit for boxes, drums, or other packaged goods. The first dimension of the Gusseted Poly Bags is the width of the opening. The second dimension of the Wholesale Polyethylene Bags is the depth of the gusset, and the third is the height from the opening to the seal. Please call for help in sizing your carton or container.
Stock Gussetted Bag Sizes
**This is only a partial listing. Please call for a custom quote.
| | | | |
| --- | --- | --- | --- |
| 4x2x6 | 16x14x36 | 32x28x84 | 44x36x80 |
| 4x2x8 | 18x8x43 | 32x28x96 | 44x36x88 |
| 4x2x10 | 18x16x45 | 40x22x60 | 44x36x96 |
| 4x2x12 | 23x10x39 | 40x22x72 | 44x36x108 |
| 5x3x15 | 23x17x46 | 36x28x60 | 48x36x72 |
| 6x3x12 | 22x14x59 | 36x28x84 | 48x36x96 |
| 6x3x15 | 22x16x59 | 40x26x72 | 46x44x80 |
| 6x3x18 | 24x20x48 | 36x32x48 | 46x44x100 |
| 8x3x15 | 24x24x48 | 36x32x72 | 48x46x72 |
| 8x4x15 | 30x18x48 | 36x32x96 | 48x46x96 |
| 8x4x18 | 26x24x48 | 36x36x48 | 53x42x78 |
| 10x4x20 | 26x24x60 | 36x36x60 | 54x44x72 |
| 10x6x22 | 28x24x52 | 36x36x108 | 54x44x96 |
| 10x8x24 | 28x24x60 | 42x32x54 | 52x48x96 |
| 12x8x30 | 30x26x60 | 42x32x60 | 52x48x108 |
| 15x9x23 | 32x28x48 | 42x32x96 | 58x46x96 |
| 15x9x3 | 32x28x72 | 48x30x84 | 58x46x108 |