---
Pallet Wrap: Protect Transport and Warehouse Resources from Pallet Leaks
17 Apr 2022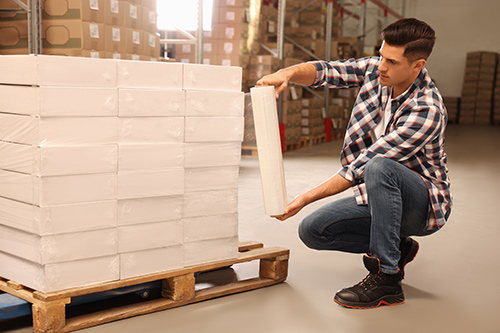 The utmost function of pallet stretch wrap is to offer stretch in order to stabilize pallet loads and bundle products together. It also ensures superior protection from dust moisture and dirt and minimizes damage in transit. Pallet wraps target full attention to leaks and tears of packaging in order to ensure the goods are safe, well-intact and well-protected.
There are large products that require full protection in order to avoid damage during transport or storage. It is an effective and efficient way to wrap these pallets that require extreme stretchable plastics in order to keep the items tightly bound and waterproof. Once the goods are wrapped it secures the item to each other in preparation for the delivery or storage. There are different types of pallet wraps like the cast pallet wrap that cling to items and have great clarity. It has good tear resistance and will not require much force to stretch. The product is visibly seen within the wrap and it unwinds freely compared to other types of wraps. There is also the blown pallet wrap which has the greater load holding power and a higher degree of memory when it is stretched. It has a high tear resistance from sharp or rough edges that products will be more secured with this wrapping.
There are many available varieties of colors, widths, thicknesses and types of pallet wraps. Focusing on the clarity of products that are fully wrapped the cast stretch wrap offers two-sided cling that allows the wrap to stay securely packaged. While the blown pallet wrap the product is not seen through the wrap. But it has a greater coercive force in wrapping. Whatever type of wraps will reduce the loss of products, prevent load tampering and theft and safely protect the product from outside elements.
For more tips on Pallet wrap, contact Atlantic Poly, Inc.