---
Smart Moving Companies Chose Atlantic Poly's Custom Stretch Film
13 Feb 2023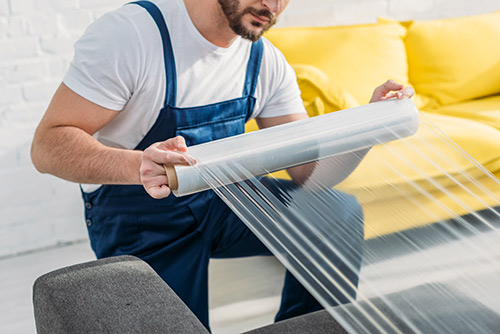 Moving company profit margins are directly related to preventing damage to the goods they are entrusted in all phases of transport. Moving company owners fully understand the importance of "stretch film", also known as shrink wrap that is prolifically used within the moving company's industry to protect household goods from damage.
What many moving company owners do not understand, however, is the quality, effectiveness, and ultimately the value of your shrink wrap product investment options vary greatly. For decades now, Atlantic Poly has delivered singularly the best value for American-made customizable shrink wrap products. Here are some of the benefits of using our stretch film for furniture:
Protection: Stretch film helps protect furniture from scratches, dust, and other types of damage during storage and transportation.
Moisture Resistance: Stretch film acts as a barrier to moisture, helping to prevent damage to the furniture from exposure to moisture or dampness.
Secure Transport: Stretch film helps secure furniture and prevent it from shifting or becoming damaged during transportation.
Cost-effective: Stretch film is an affordable option for protecting furniture, especially when compared to other types of protective materials such as cardboard or foam.
Easy to use: Stretch film is easy to apply and does not require any special tools or equipment.
Contact Atlantic Poly for a wide assortment of custom shrink films and other quality poly products that will help your moving company protect the goods under your care. This of course will contribute to higher profitability for your moving company.