---
The Benefits of Pallet Wrap - Boston, MA
30 Aug 2019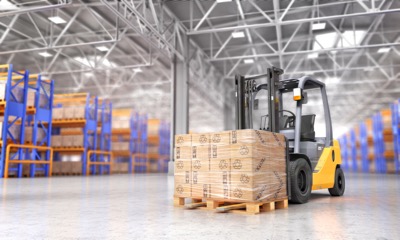 Pallet wrap is often be mistaken for shrink film. Unlike shrink wrap, pallet wrap has the same qualities as a rubber band. It is able to stretch out and then pull back in making it unique when compared to other types of plastic wrapping. The ultimate benefit of using pallet wrap is to secure palletized products during transit, ensuring that they stay together. It includes the protection it offers from harmful elements such as dust, rust and moisture. Using pallet wrap is also a cheaper alternative to strapping, the equipment needed is cheaper and it requires less manpower.
There are different Pallet Wraps available in Boston, MA:
Blown Pallet Wrap. Blown pallet wrap offers the benefit of a high level of stickiness or tackiness as well as excellent puncture resistance and a strong and secure wrap. In color, it is clear as standard but will also be supplied with a colored tint for product identification or opaque offering security and protection to valuable goods. This particular type of pallet wrap is manufactured using the blown film extrusion process.

Cast Pallet Wrap. Cast pallet wrap has less stickiness inherent in the film meaning it is much quieter and smoother to apply. It offers great stretch and puncture resistance and will also be produced with a tint or opaque color. The manufacture of cast pallet wrap film begins with the extrusion of heated resin. Once melted and at the correct temperature for the necessary viscosity, the resin is pushed through a die to create a continuous layer of plastic.

Machine Stretch Film. Machine pallet wrap is the ideal wrapping solution for high volume packing lines. This method of wrapping offers time saving benefits, efficient and standardized packing, reduced managerial costs, enhanced security and a safer packing line.

Colored Pallet Wrap. Colored pallet wrap offers a number of benefits, the first being to quickly and visually identify different ranges of products, ideal for items that may be stored high up in warehouse facilities. It will also disguise valuable and sought-after items during transit to deter tampering of the packaging. Blue pallet wrap is often used for edible goods as it is food industry approved.
There are wide selection of pallet wrap, stretch film and other wrapping supplies that you will surely choose to any shipping movement. Whether you are transporting a single pallet or a complete container load, your choice of stretch wrap will have a huge impact on the secure and safe delivery of goods.
To find out more about Pallet Wrap, contact Atlantic Poly.