---
The Many Uses of Poly Vinyl Pouches
27 Jul 2022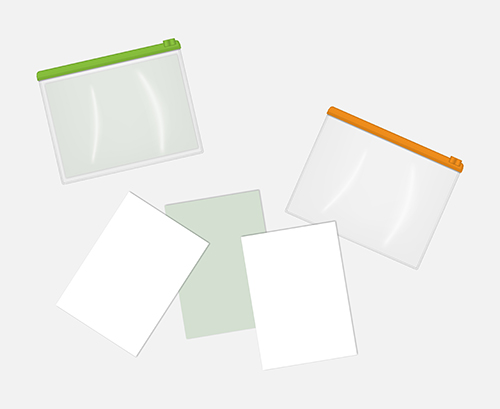 Our vinyl is a heavy duty type of plastic, clear, frosted or opaque, that can be used to make various types of sleeves, pouches, envelopes and wallets. Special features, such as zip locks, eyelets, magnets, pressure sensitive adhesive, Velcro, snaps and printing, can be incorporated in our vinyl products. While our vinyl can be used to make a lot of different products some of our popular types are wallets. But not just normal wallets, we have a multitude of wallet type vinyl pouches, ranging from book covers to credit card holder pouches.
Check Book Covers - these wallets, usually given out by banks, are used to cover check books and check registers.
Policy Wallets - large wallets, usually given out by insurance companies, to hold the policy and other important papers for the customer.
Registration Holders - used by auto dealers as a marketing tool, registration holders can be printed with dealer information and given to customers with their registration and transaction documents when they purchase a vehicle.
Presentation Folders - large wallets, often used by sales and marketing people, to present a proposal or used by companies to hold paperwork for conferences or trade shows.
Document Wallets - mostly used by the travel industry, these wallets are used to hold airline tickets and other travel information for the traveler.
Business Card Holders - small sleeves or wallets used to store and protect business cards.
Credit Card Holders - small sleeves or wallets used to hold and protect credit, bank or membership cards.
Our company not only offers great polyethylene plastic bags but also vinyl pouches, mil-spec bags, corrugated boxes, etc. Being in the business for over 20 years has given us a wide range of products in which we can produce and utilize for our customers. Contact Atlantic Poly today should you need any information regarding polyethylene products.