---
Large Pallet Covers
Serving MA, RI, NY, CT, NJ, FL, MD, National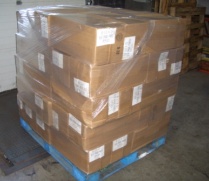 Large pallet covers are heavy-duty covers that are used to protect pallets and their contents during storage and transportation. They are typically made from a durable material such as polyethylene and are designed to fit over pallets, providing protection from dust, moisture, and other environmental factors.
The benefits of using large pallet covers include:
Protection: Large pallet covers protect products from damage during storage and transportation, ensuring that they arrive at their destination in good condition.
Cost-effectiveness: Large pallet covers are a cost-effective solution for protecting pallets and their contents, compared to other packaging options such as boxes or crates.
Space-saving: Large pallet covers allow for the efficient use of storage space, as pallets can be easily stacked and covered.
Easy to use: Large pallet covers are easy to use and can be quickly applied to pallets, making them a convenient option for packaging and transporting products.
Weather resistance: Large pallet covers are designed to withstand harsh weather conditions, providing protection from rain, snow, and wind.