---
Atlantic Poly Blog
- Grab the Atlantic Poly RSS Feed!
18 Jan 2011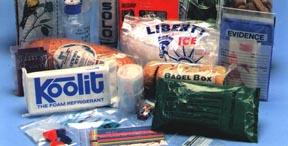 In the world of marketing, packaging of products plays a very important factor in promoting brand recognition. Printed poly bags are among the most popular material used, which allows custom printing of logo and branding for more effective branding strategy. So aside from providing a great packaging material for your products, seeing the printed poly bag will also attract the attention of other people that will hopefully generate interest and awareness. That's definitely an added value any serious entrepreneur wouldn't want to miss.
Of course the popularity of printed poly bags is not only limited to its marketing value. The primary reason why most businesses prefer to use it is because its known durability in providing optimum protection to its contents. The material is waterproof and allows a high degree of protection against dust, dirt and moisture from seeping in. This ensures that your products are maintained in its premium condition from you store to your customer's home.
There is also the fact that it presents a cheaper option for packaging as compared to other types of packaging material. Additionally, its ability to be sealed and re-sealed makes it a practical option for many, especially businessmen who would want their packaging material to be used to maximize its exposure and mileage.
Poly bags can be used to package just about anything. It is flexible enough to conform to any size and shape without compromising its quality. Of course, its ability to be printed on, gives a whole new appeal. Now you can use vibrant colors and designs, and use your brand design to personalize your packaging to effectively give off a more professional look. So if you are looking for cheaper packaging contact us today to find out more about printed poly bags and their many uses and benefits. Be sure to check out our other polyethylene products that we offer as we have a wide assortment of materials to promote and push your business forward.
Comments (0)
|
Trackbacks (0)
|
Permalink
|
|
---